Where the wonderfully average become spectacularly bad.
Hi!
We are Third Year Television Production Students here at Middlesex University and for our major project we are in the process of creating a short single camera sitcom called 'Amateur Hour' . With your help, we can bring this creation to life and make a dream become reality.
What is AMATEUR HOUR about?
Amateur Hour is a ten minute single camera sitcom set in an Amateur Drama Society that follows four main characters that are working towards putting on a show. The pilot episode that we are creating follows the character Bianca as she goes to auditions. All of the key and returning characters that make Amateur Hour are:
Bee (Bianca) - A nervous nineteen year old who finds herself accidentally auditioning for the local amateur drama group's pantomime.
David - The mid thirties self appointed assistant director of the group. He wants nothing more than for the show to be a hit.
Joan - In her mid forties, Joan runs the society and is constantly stressed but extremely friendly. She was a member of the society for years before she took over managing it.
Terrie - Terrie has been involved with the group since she was a child and is in the pantomime every year. Her and Bianca become fast friends.
who are we?
In order to bring this single camera sitcom to life, the dedicated crew involved in our team are:
Rachel Thompson: Director & Script Writer
Chelsea Neil: Producer
Hadassa Weill: Production Manager
Madelen Nygaard: Director of Photography
James Strutt: Camera Supervisor
Why do we need your help?
With your generous donations, we can raise the money needed to take care of crucial parts of our single camera sitcom. Below you can see the breakdown of how we would spend our minimum budget of £500.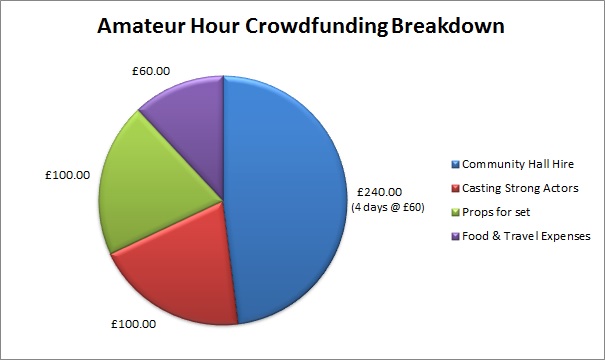 We have set our minimum budget to £500 in order to ensure that we can cover the basics in order to bring this to life.
Any money we raise beyond our target will go on props, paying actors for their work and will also go towards the private screening that we are holding after the completion of the project.
We are appealing to our friends, family, comedy lovers and film lovers to help support us on this exciting opportunity.
Rewards
The rewards are listed on the right and give details for each donation bracket. Each level of donation grants different levels of rewards, therefore think about it carefully before you donate!
For certain donors, we will be holding a private screening when the film is completely finished with snacks included! Details of this will be updated closer to the completion of the film.
Our plan of action?
We are currently in our pre-production stages and will begin to hold auditions for the roles in mid January. The production and filming stage will begin in the middle to end of February.
Stay up to date with our progress
In order to receive constant updates on our progress and see what is going on, please like, follow and share our Facebook page: https://www.facebook.com/amateurhoursitcom/
Spread the word!
If you can't donate personally, you can still help us by spreading the word about our project to your own network of contacts.
Please share this project with anyone you think would support us – on Twitter, Facebook, LinkedIn, by email, telephone, in person or on your blog.
By helping us promote the project, the greater chance we have of turning our bright idea into reality. Your support really matters.
Of course if you are also able to make a small personal donation and sponsor our project, we would be extremely grateful!